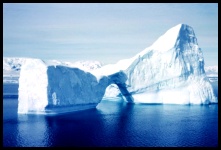 Let's Take the Measurements

Observing icebergs is not only interesting, but necessary. The huge masses of ice create a hazard to ships (remember the "Titanic"?), so they must be identified and reported.

This is particularly important in the North Atlantic Ocean, where Arctic bergs drift south into the shipping lanes between Europe and the major ports of the United States and Canada.

In this area the cold Labrador Current meets the warm Gulf Stream and the temperature differences of up to 20°C / 68°F produce dense fog. The combination of icebergs, fog, storms, fishing vessels and busy trans-Atlantic shipping lanes makes this area one of the most dangerous for ships.

Navigators therefore need all the help they can get, so the International Ice Patrol uses the following size categories to identify icebergs.
ICEBERG SIZE CLASSIFICATION
Size
Growler
Bergy Bit
Small
Medium
Large
Very Large

Height (m)
less than 1
1-4
5-15
16-45
46-75
Over 75

Length (m)
less than 5
5-14
15-60
61-122
123-213
Over 213

Height (ft.)
less than 3
3-13
14-50
51-150
151-240
Over 240

Length (ft.)
Less than 16
15-46
47-200
201-400
401-670
Over 670

MORE...
Click pictures for more information and credits.
Library: Arctic, Icebergs, Glaciers, Ice
Links: Arctic, Icebergs, Glaciers
International Ice Patrol
Maps: Source of North Atlantic Icebergs
Arctic Maps & Weather Reports