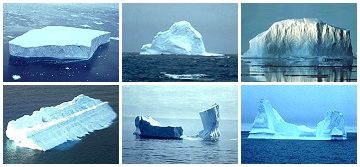 ICEBERG TYPES Top (L-R): Tabular, Dome, Blocky
Bottom (L-R): Wedge, Drydock, Pinnacle


There goes a "blocky" and a "wedge"

A fantastic variety of shapes result from both the formation and deterioration processes of icebergs. Like snowflakes, no two icebergs are exactly the same, but there are certain basic categories of shapes that are used for iceberg observations.
TABULAR: Steep sides with a flat top - like a huge tablet. These are very solid and often break away from ice sheets or ice shelves. Many show horizontal banding from the layers of ice that built up as the sheet formed.

DOME: Well, sort of rounded, of course!

BLOCKY: A flat-topped, block-shaped icebergs with steep vertical sides.

WEDGE: As the name implies, it's like a wedge. The top narrows to a pyramid-like point.

DRYDOCK: An iceberg which is eroded to form a little U-shaped harbor-like enclosure - like a drydock.

PINNACLE: An iceberg with one or more spires.
The term NON-TABULAR is sometimes used to cover all icebergs that are not tabular-shaped (No.1). This includes bergs that are dome-shaped, wedge-shaped, blocky, and pinnacled.

In addition to shape, icebergs are also classified as to size.

MORE...
Click pictures for more information and credits.
Library: Icebergs, Ice, Glaciers, Snow, Arctic
Links: Icebergs, Arctic
News Story: Impossible Iceberg Photo
Map: Source of North Atlantic Icebergs
Arctic Maps & Weather Reports