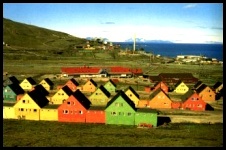 Svalbard - Last Rest Stop Before the Pole

Svalbard lies about 400 miles / 645 km north of Norway and is composed of five major islands (including the Spitsbergen group of islands) and many small ones. Although its capital city is Longyearbyen, it is only home to about 3,000 people - a population that is almost entirely seasonal.

The name "Svalbard" means "the cold coast". The area was well known to the Vikings, but it wasn't rediscovered until 1596. It then became a centre for whaling, hunting and trapping.

In 1920 the League of Nations awarded the islands to Norway, but the rights to mineral deposits were shared with Denmark, Italy, Japan, the Netherlands, Sweden, the United Kingdom, the United States, and Russia.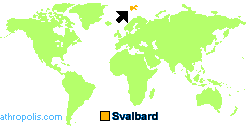 Because the islands are so close to the North Pole, Svalbard (Spitsbergen) has been a popular "base" for Arctic exploration.

Byrd and Bennett were the first to fly over the Pole from Svalbard in 1926. The same year Nobile, Amundsen and Ellsworth left there to cross the Pole in a dirigible, and the submarine USS Nautilus stopped there after travelling under the ice cap in 1958.

MORE...
Click pictures for more information and credits.
Library: Arctic, Exploration
Explorers, Whales/Fish
Links: Arctic
Arctic Maps & Weather Reports