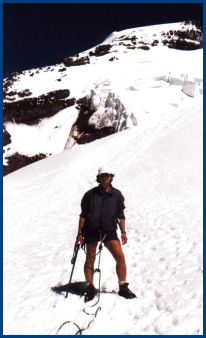 L.W.Collingwood descending
from the Mt. Baker summit
(Click Photos to Enlarge)

Cool Spot on
a Hot Day
Relief from the heat
at 10,000 feet!
The summit of Mount Baker in Washington State was a cold and nippy place on a hot July day (07/02/01).
At an altitude of 10,778 feet / 3,285 meters, the peak still has below freezing temperatures overnight, and even in the bright sunlight of the hottest part of the day, the winds can bring finger-numbing cold.
The route to the summit passes over the glaciers that surround the peak. As the sun warms the snow, snow bridges over the crevasses can collapse, making the journey a dangerous one for the unprepared. All climbers must be equipped with crampons (spikes on climbing boots) and ice axes, and be roped together for safety.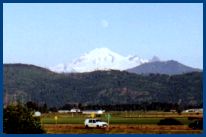 Mount Baker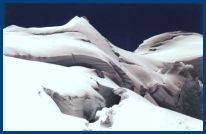 Snow sculptures
near the summit


Falling into a crevasse would be like being packed on ice. Hypothermia would set in quickly. Climbers must be prepared to make a speedy rescue if one of their party falls.

As the ice melts, rock loosened by freezing water but held together by the ice, falls free. Avalanches of rock, snow and ice are common sights on the route.

The climb to the summit must therefore be made early in the day. This allows the climbers to get off the dangerous parts of the mountain before the snow softens too much.

A summit climb is usually made over two days - setting up camp within easy distance of the summit on the first day, and setting out for the peak early on the second day.

This climb, however, was done in one day, with the climbers leaving from Vancouver, British Columbia, Canada at 2:00 AM. This was necessary to be on the mountain before sunrise, reach the summit not later than midday, and descend with a margin of safety.

On this trip, both weather and snow conditions were perfect, allowing for a quick ascent - and the view was spectacular!

LINKS
Cold Places, Glaciers
Signals & Codes