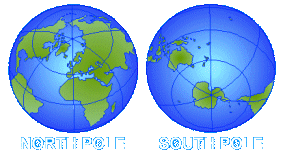 Why is One Pole Colder Than the Other?

Antarctica (the South Pole) is land surrounded by oceans, while the Arctic (surrounding the North Pole) is an ocean almost completely surrounded by continents and Greenland.

The Arctic isn't quite as cold as Antarctica, and here are some reasons why:
A massive ice sheet covers almost all of the Antarctic continent. Although glaciers are common in the Arctic, Greenland has the only permanent ice sheet, but it's only about 1/8 the size of the Antarctic ice sheet.

As the Arctic Ocean surrounds the North Pole, the ice cover is sea ice that floats on the ocean (only about 10-20 feet / 3-6 meters thick), instead of that massive ice sheet (more than 2 miles / 3 kilometers thick in places).

The Arctic's thin ice cover has water, not land, under it. While the water is anything but warm (it's temperature is, naturally, above the freezing point - or else it would be ice), it is much, much warmer than the air above the ice - and some of this heat makes its way through the ice to the air.

The ice cap over the Arctic Ocean is always moving because of the winds above it and the ocean currents beneath it. This movement causes large cracks (called "leads") to open up - even in winter - and this allows ocean heat to escape into the air.

Land loses heat faster than water.

Antarctic has stronger winds than the Arctic.

During the summer months, Arctic land, unlike Antarctica, is mostly free of snow and ice cover. This not only contributes to warmer temperatures, but allows for much plant growth as well.
MORE...
Click pictures for more information and credits.
Library: Arctic, Ice, Glaciers
Land, Cold/Cold Places
Links: Arctic, Glaciers, Cold Places
Arctic Maps & Weather Reports