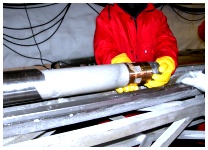 Did Trees Cover Greenland?

Operating from a drilling site located atop the Greenland Ice Sheet, an international research team from the North Greenland Ice Core Project has recovered what seem to be bits of plants from nearly 2 miles / 3.2 km below the surface.

Several of the pieces look like blades of grass or pine needles. If confirmed, this will be the first organic material ever recovered from a deep ice-core drilling project.

This plant material, from under 10,400 feet / 3,170 meters of ice, may be several million years old - from a time when trees covered Greenland. This indicates that the ice sheet formed very fast.

The cores are cylinders of ice 4 inches / 10 cm in diameter that were brought to the surface in 3.5-meter / 11½ foot lengths.

The ice also contained trapped gas, and each layer of ice represents yearly records that can reveal past temperatures and precipitation levels, the content of ancient atmospheres, and even evidence storms, fires and volcanic eruptions.

MORE...
Click pictures for more information and credits.
Library: Arctic, Ice, Snow
Icebergs, Environment/Atmosphere
Links: Arctic, Icebergs
Glaciers, Cold Places
Arctic Maps & Weather Reports